Zack still remembers his first interview at Applebee's in Burlington back in December of 2012.
"Erin from Chinook Enterprises was with me," Zack recalled. "The manager wanted to hire me on the spot!"
Linda, who refers to herself as Zack's "MUBER" (Uber + Mom) thinks back, "They called me at home during his interview to work out Zack's schedule since I provide his transportation." She beamed, "They knew they'd found a great employee."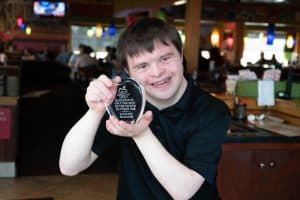 Zack likes everything about his job. Over the past six years, he has worked as a host, bar assistant, busser and server. But Zack says the favorite part of his job is getting to work with his 'best buddy' Sean.
Sean McCormick is Zack's manager who recently presented Zack with Applebee's 'Only The Best' award, a monthly award given to employees who have demonstrated performance excellence. "Zack is the glue that holds us together when things get hectic around here," said Sean. "He works hard and is quick with a smile, a joke or an inspirational message. He lifts us up."
Zack often treats his family to dinner, which usually involves a visit to Applebee's. "The Applebee's staff treat our whole family like royalty," shared Linda.
Applebee's is one of several jobs that comprise Zack's busy schedule. He also works for the Mount Vernon School District sorting mail and volunteers at the Mount Vernon Library and YMCA. "I'm a busy working guy!"
When he's not working, Zack takes music and horseback riding lessons, all of which he pays for himself. "He also has a sizable music collection now," shared Linda. "He collects CDs of his favorite bands, many from the 1960s and 1970s.
Zack pays tribute to his favorite band of all time, The Beatles, when he sums up his status by saying, "I get by with a little help from my friends."
It doesn't get better than that.