A Message from our CEO, Rob Martin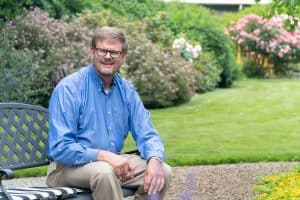 Even though the term 'social enterprise' did not exist 38 years ago when we opened our doors, the concept behind it became our vision for a sustainable future. Today, Chinook Enterprises has evolved into the largest social enterprise in Skagit County.
From the beginning, we focused on placing persons with developmental disabilities into competitive employment: something that wasn't a widespread practice in the eighties. Over time, however, more opportunities came our way and we became largely self-sustaining. We focused on producing goods for industry and reinvested in our people and services. This method evolved as our way of doing business and simultaneously funding our mission. Today we are, by definition, a 'social enterprise.'
Each year since 1980 brought a unique set of challenges and opportunities.
We experienced new highs and lows, successes and disappointments, with one thing being constant: change.
Starting in 2017, and thankfully continuing this year, we see the economy moving again. Local job growth, something that had stalled during the recession, is finally starting to take off. There is an increasing need for entry-level job opportunities in our county, which has kept our Community Employment Department very busy! In fact, comparing 2017 to 2016, we saw a 50% increase in placements year-over-year. We are busy!
Looking ahead to 2019 and beyond, more change is on the horizon.
After devoting nearly four decades to improve job opportunities for people with disabilities, I will be retiring at the end of the year. It's hard to imagine a life without Chinook in the forefront. However, as Heraclius, the Greek philosopher once said, "The only thing that is constant is change." As a corporate philosophy, we embrace change, because we know that without the courage to initiate change, Chinook Enterprises would not exist.
I wanted to share one of my favorite candid photos as we were preparing for a company photo session. It is one I will cherish long after I leave Chinook Enterprises.