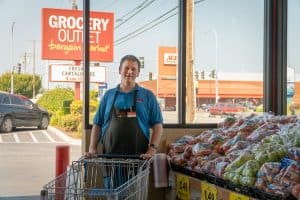 "Cast your bread on the waters, it will come back to you," was both the personal and business philosophy of Leonard and Polly Ballif, who opened Grocery Outlet Bargains Market on Riverside Drive in March of 1989. Several years later they hired Nels Lee, who has clocked in every day since.
Polly couldn't remember the exact day Nels started back in 1993 but said, "If you ask Nels, he'll tell you the exact day. He never forgets anything!"
Last year Nels celebrated his 25th work anniversary. Nels is one of two employees who've been with Ballifs since the beginning. "It seems like he's been here forever," Leonard said with a broad smile.
After nearly 30-years of managing the Mount Vernon Grocery Outlet the Ballif's prepared to retire last month. "August 31st will be our last day. We don't know what we'll do next, but we do know we'll finally be able to spend more time together," said Polly, explaining that managing a store that's open from 8:00 am – 8:00 pm requires them to work different shifts. "Most days we're like ships passing in the night."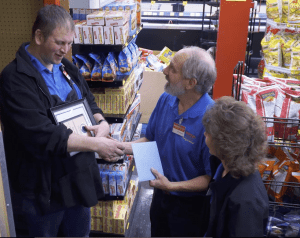 Polly and Leonard recalled the process that helped uncover Nels' knack for the grocery business. "The job assessment Chinook facilitated was the key for us to learn that hiring Nels would be a wise business decision," Leonard remarked. "Nels was a natural," agreed Polly, "Our customers loved him from day one."
Janie Hamblin, Employment Specialist explained, "An assessment helps both the employer and prospective employee determine if there is potential for a positive employment match by giving the employee an opportunity to perform tasks on site. In Nels case, an assessment helped him find more than a job. It helped him find a fulfilling career."Nels started his career bagging, carrying out groceries for customers, and retrieving carts from the parking lot. Over the years he's taken on more responsibilities including restocking and organizing shelves as well as store clean up.
The Ballifs refuse to take any credit for Nels' success. "All the credit goes to Nels and his family who instilled a positive mindset and a can-do attitude," said Polly.  "He's always smiling."
The Ballifs say they will miss the store, and seeing Nels' smiling face every day. "Nels is like a fourth son to us," shared Leonard. "He's become a lifelong friend."