Burlington, Mount Vernon Retail/Manufacturing Employee Available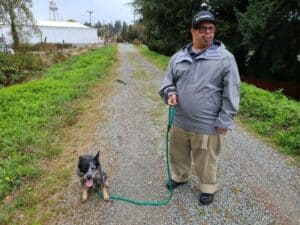 Jamaal is looking for work in the Burlington and Mount Vernon area in the retail or manufacturing industries. He would like to work 6-10 hours per week stocking or sorting products, at a wage of $15 or above. He is funny, helpful, and ready to work.
Jamaal is a unique and caring man. He is driven, willing to try new things, and loves helping others – especially animals. Prior to the pandemic, he volunteered at the Skagit Humane Society for two years, in addition to previous employment at Walmart as a cart attendant and as a general laborer for Chinook Enterprises.
Jamaal graduated from Interlake High School in 2007. He values being active in his community and enjoys working with his hands. Jamaal has great sorting skills and likes putting things together. He thrives when he gets to contribute as part of a team.
Interested in meeting Jamaal?
Contact Jamaal's Employment Specialist Taite Stewart-Wiebe to set up a no-strings, informational interview by phone at 360-941-1879 or via email tstewart-wiebe@chinookenterprises.org