Employed, Fulfilled, and Motivated
Client Spotlight: Ryan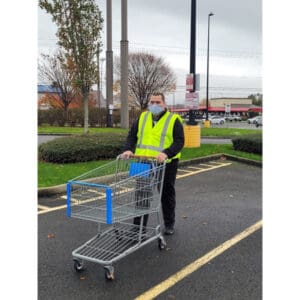 Ryan was out of work for two years, in part because his last job didn't end with a positive experience, and he was discouraged and uncertain if he would be able to find a better opportunity. He felt like the past would just repeat itself.
With all this spare time, he had nothing to do and too much time on his hands. He knew he should be doing more with his life, but spent most of his time playing video games.
But then, Ryan was referred to Chinook through the Developmental Disability Administration, in partnership with Skagit County Public Health.
Chinook was able to support Ryan to apply to his chosen position as a cart associate at Walmart in Mount Vernon. He started working in Fall of 2021, and works up to 10 hours per week earning $15 per hour.
Ryan has come a long way both personally and professionally. He has excelled at his job and loves working outside (when the weather is good). He is starting to think bigger about his potential and what he could do with this life, and dwell less on past failures. It's a huge change!
At Walmart, Ryan hopes to one day transfer to the electronics department assisting customers. He aspires to find a significant other, to drive, and to one day live independently.
And he's on his way, because he is already using public transit on his own. Beyond that, he aspires to own his own business, perhaps a coffee stand or a ridesharing company.
For now, he's happy to be earning income again, and hopes to buy a new X-Box that can play the latest version of the Assassin's Creed Trilogy.
Ryan also enjoys costumes, and designing new gadgets that would be useful for soldiers and superheroes. He says that he is "getting paid to get ripped like Batman," and that he needs to win the lottery so he can have his own bat cave. But while he waits for Powerball to call his number, Chinook will continue to support Ryan as he works hard pursuing his dreams and goals.
Need Good, Reliable Workers?
The customers Chinook supports at employers like Walmart stay an average of 8.6 years, which is many years more than the national average for entry-level jobs.
Find out more about how you can win big by hiring a hardworking employee like Ryan. Contact Chinook Enterprises by clicking here or on the button below.