Burlington Chamber Humanitarian Award received for making a difference.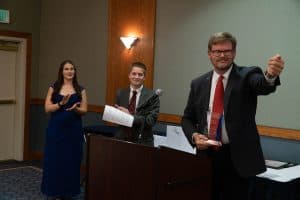 Chinook started the first week of November off with a lot of excitement. We were one of three organizations to be nominated for the prestigious Humanitarian Award from the Burlington Chamber of Commerce. Award winners are decided through a vote of the membership. The award is presented to organizations whose work continually improves the lives and well-being of people in our community. The evening ceremony was the first of its kind and was completely sold out.
The evening's festivities included delicious food, beverages, a social hour, and a photo booth. The Awards Ceremony included an update on Chamber accomplishments and objectives by CEO/President, Peter Browning.  Awards were presented to business members who had exemplified leadership, compassion and stewardship in the community.
As he accepted the award, Rob Martin shared a few words of gratitude and gave credit to Chinook's staff and management team. Martin also mentioned that continued success would be elusive without open-minded employers and enthusiastic job seekers.
Many of Chinook's board members and managers attended the celebration. It was a top-shelf evening filled with fun, inspiration, and a new appreciation for what the Burlington Chamber staff does on a daily basis to support its members and our community.