CHIEF EXECUTIVE OFFICER POSITION DESCRIPTION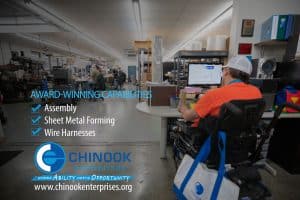 Chinook Enterprises is seeking an innovative, experienced individual to lead the organization. It is anticipated that the successful incumbent will have strong management/leadership skills to assist the organization in accomplishing its mission as well as establish a strategic vision for the future and ability to engage community partners.
OUR MISSION
To support full participation in community life for people with disabilities or other barriers.
OUR VALUES
❖ Integrity – We act honorably, by being honest and having high ethical standards.
❖ Accountability – We take responsibility for our actions and can be counted on to do what we say we will do.
❖ Teamwork – We support one another and work collaboratively to fulfill our mission. We interact with others in a positive manner and listen to each other.
❖ Respect – We are courteous to one another. We recognize the importance of diversity and value each person.
❖ Quality – We take pride in our work and are committed to exceptional quality and delivery of our products and our services and strive to continually improve.
❖ Standards – We strive to hold high standards of practice, to make more options for the people we serve, knowing that this will lead to our success.
Chinook Enterprises is a non-profit organization with approximately 40 employees and a $2 million-dollar budget.
SELECTION PROCESS
Successful candidates must be available to participate in the following selection activities:
● Application packet due date: October 29, 2020
● Online Screening Interview: November 10, 2020
● On-site Final Process: November 18 & 19, 2020
POSITION SUMMARY
The Chief Executive Officer is responsible for leading the organization in accomplishing the mission, goals and objectives. This position operates under the direction of the Board of Directors and serves at their pleasure. Responsible for establishing the organization's direction and budget and achieving financial objectives for long-term sustainability. Provides oversight of business, production, rehabilitation and community relations to ensure smooth and efficient operation of the company.
STATUS: Exempt, Salaried
SUPERVISES: Chinook Management Team
ESSENTIAL JOB FUNCTIONS
1. Organization/People
● Work with the management team to develop long term and short-term plans and achieve business objectives. Monitor ongoing performance against business objectives.
● Develop an effective management team and succession plan for all key positions.
● Ensure a safe and positive working environment for all employees. Communicate with all employees in the organization regarding the vision, goals and objectives, and performance of the organization.
● Encourage continuous improvement throughout the organization. Encourage employee involvement, ideas and feedback. Structure and lead the organization to foster cooperation and efficiency for the highest quality services
2. Fiduciary/Contract Management
● Prepare and present an annual budget for approval by the Board of Directors. Monitors ongoing performance vs. plan and develops recovery plans as needed.
● Approve contracts and expenditures of the company operating funds in accordance with the operating fiscal policies established by the Board of Directors.
● Develop strategic, program and financial plans with the Board of Directors and staff and execute the plans and policies authorized by the Board.
● Report to the Board monthly on the financial, program services, and operational aspects of the organization, including providing background for policy matters and recommending Board action when appropriate.
● Report trends, operations, impending action, concepts, legislation, action taken by funding sources, etc., which may affect the organization or its programs.
3. Business Development
● Identifies opportunities to expand existing revenues streams and potential new revenue areas.
● Develops and maintains professional contacts within local and regional business and industry.
● Makes sales presentations and develops sales/marketing strategy as appropriate to major customers.
4. Operations
● Manage teams engaged in Aerospace and other industrial manufacturing areas to meet contractual needs, regulatory and quality requirements.
● Manage teams engaged in social service mission activities in accordance with regulatory requirements.
5. Community and Customer Relations
● Provide current information on program activities to the public through tours, speaking engagements, civic meetings, and the media.
● Attend state-wide meetings and seminars to gather information on trends and events which will impact the organization.
● Represent Chinook Enterprises at community and professional meetings.
QUALIFICATIONS
Education / Experience
● Bachelor's Degree in Business, Human Services, Manufacturing/Engineering, Public Administration, or Rehabilitation or related field. Master's Degree in a related field preferred.
● Minimum of five years of senior leadership experience.
● Financial/Budget management experience.
● Passion and experience, either through paid or volunteer services, to support and serve individuals with disabilities.
● Direct experience in manufacturing operations and processes preferred.
● Any combination of training and/or experience that provides the required knowledge and abilities.
Knowledge, Skills and Abilities
● Knowledge of leadership and management principles. Demonstrated leadership skills including setting a vision, staff development, coaching, problem solving, producing effective results, etc.
● Demonstrated experience with financial management and budgetary processes.
● Capability to evaluate and analyze effectiveness of programs and services.
● Excellent written and verbal communication skills – ability to plan, organize and effectively make community presentations.
● Proficient with Microsoft Suite products.
● Ability to establish and maintain effective working relationships with customers, employees, board members, and community stakeholders.
● Ability to effectively resolve challenging issues and address problems promptly and professionally involving others as needed.
Special Requirements
● Must have and maintain a valid Washington State Driver's License with acceptable driving record and proof of insurance for work-related travel.
● Ability to pass a Washington State Patrol and DSHS background check.
WORKING CONDITIONS
The Executive Director works both in an office environment and throughout the community. Some evening hours and travel required to attend meetings, presentations and conferences. Sufficient mobility is required for movement throughout the office, production setting and community. Frequently required to use hands and fingers (computer), handle or feel and reach with hands and arms. Lifting a maximum of 30 pounds (boxes, supplies, etc.) may be required. The ability to hear and communicate at a level sufficient to perform the essential functions of the position is required.
SALARY & BENEFITS
Competitive salary based on experience.
Chinook provides a great benefits package including:
● Paid Sick and Vacation Leave
● Health, Vision, and Dental Insurance
● Life Insurance
● Short and Long-term Disability Insurance
● Retirement Program
● Social Security, Unemployment Insurance, and Industrial Insurance.
TO APPLY
Application materials may be obtained by visiting https://chinookenterprises.org/job-seekers/. Return completed applications to kara@turnerhrservices.com. First consideration given to applications received by October 29, 2020. Position open until filled.
SELECTION PROCESS
After reviewing the application materials, Chinook will contact the most qualified candidates to participate in a selection process consisting of job-related selection activities. Chinook will make reasonable accommodation upon request for those individuals with disabilities. Chinook Enterprises is an Equal Opportunity Employer.