Chinook's Production Team received Boeing's 2018 Quality Award.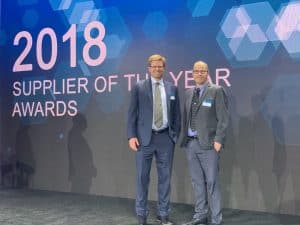 Two thousand eighteen (2018) marked the 8th consecutive year that Chinook's Production Team earned the coveted Boeing Performance Excellence Award (BPEA). "The commitment to quality and precision among the team is remarkable," said CEO Steve Reed. "Each team member is personally committed to providing the highest level of service and end product."
Chinook's relationship with Boeing dates back to 1989 with the Boeing Offload Program. The program was designed to enable small community service and employment programs to provide goods and services to the Boeing Company at competitive rates. Two years later, in 1989, Boeing presented Chinook with its first official award for outstanding quality and on-time deliveries. The workload and product lines Chinook supplies to Boeing have increased exponentially over the years.
The success of Chinook's Production Team enables the company to provide its mission-driven services. In essence, Chinook's Production Department operates as the company's 'commercial engine,' fueling Chinook's impact in the community.
Once again, congratulations to our award-winning Production Team!