When it comes to creative marketing tactics, Chinook Enterprises may have taken the cake, or in this case, chocolate.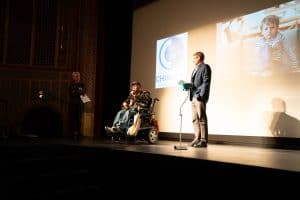 Earlier this month, Chinook unveiled its partnership with Forte Chocolates/.   From the stage of the Lincoln Theatre, Chinook's president Steve Reed explained, "We couldn't think of a better place to share this news than at our first annual "Movie Night."
Chinook hosted the compelling movie 'Far from the Tree' combined with a short program to discuss accessibility and inclusion progress in Skagit County.  'Chinook Bars' were handed out to ten lucky raffle winners in the audience.
The chocolate comes in two varieties with two distinct wrappers. An image called 'Mount Baker Sunrise,' created by local artist Russell Martin' covers the Dark Chocolate with Sea Salt.' A second bar is wrapped with a beautiful watercolor of Chinook's iconic street sign.
"We plan to place chocolate bar displays in retail locations supportive of our mission," explained Reed. "We hope it serves as a reminder that people of all abilities need equal opportunity in our community."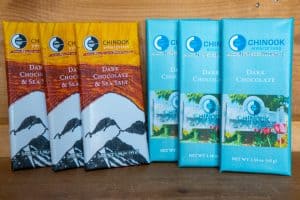 The bars will sell for $5.00 each, with $1.00 being returned to Chinook to support unfunded services. Reed explained that the project is not meant to be a money-maker, but rather to serve as a collaborative marketing campaign between Forte Chocolate, local businesses, and Chinook Enterprises.
Chinook's Movie Night, hosted on October 10th, served to promote National Disability Employment Awareness Month (NDEAM) and to extend appreciation to the Skagit Community. Admission was free and open to the public. Chinook plans on hosting a similar event next year.